Asymptomatic Infections a New Benefit of Masks?
by Dr. Alex Bernadett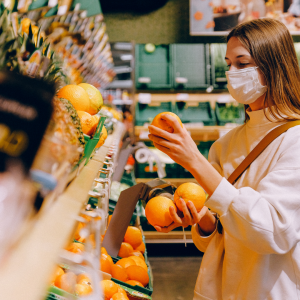 A study published in the Journal of General Internal Medicine in July 2020 showed that facial masking may reduce the severity of disease among people who do get infected with SARS-CoV-2. While we've known that wearing a facial covering is beneficial for preventing spread of COVID-19 if a person is infected, these findings support the idea that a mask is helpful for the wearer as well.
The JGIM article analyzes different studies that were conducted before and after universal masking protocols were implemented. The authors hypothesize that wearing a facial mask reduces the viral inoculum, or amount of active/infectious virus, to which the wearer is exposed and therefore reduces the subsequent clinical impact of the disease. The findings of this study are consistent with a long-standing theory of viral pathogenesis, which holds that the severity of disease is proportionate to the viral inoculum received. If this theory bears out for SARS-CoV-2, population-wide masking might contribute to increasing the proportion of SARS-CoV-2 infections that are asymptomatic. The typical rate of asymptomatic infection with SARS-CoV-2 was estimated to be 40% by the CDC in mid-July, but asymptomatic infection rates are reported to be higher than 80% in settings with universal facial masking. A recent New England Journal of Medicine article highlights a few of these examples.
Fewer symptomatic cases of COVID-19 means less impact and burden on our hospitals, an important measure of public health success. While we await the results of COVID vaccine trials, any public health measure that could increase the proportion of asymptomatic SARS-CoV-2 infections may make the infection less deadly and increase population-wide immunity without severe illnesses/deaths. Ultimately, combating the pandemic will involve driving down both transmission rates and severity of disease. Increasing evidence suggests that population-wide facial masking might benefit both components of the response, especially when it comes to decreasing disease severity.
Lastly, I'd like to revisit a widely-circulated proof of concept study* out of Duke University in September 2020 showing that the vast majority of facial mask designs reduce the amount of airborne droplets and therefore potential viral inoculum. The study did show that one-layer polyester/spandex coverings, commonly known as neck gaiters, increased the amount of airborne droplets compared to not wearing a mask. The theory behind this finding is that the thin, single layer material of the neck gaiter dispersed larger respiratory droplets into a multitude of smaller droplets. Considering that smaller particles are airborne longer than large droplets, the use of such a mask might be counterproductive. While this data is from a proof of concept study and tested one type of neck gaiter, it serves as a reasonable recommendation to use surgical masks or multi-layered face coverings to decrease droplet spread and serve as a better barrier from viral inoculation for the wearer.
*Proof of concept (POC) or proof of principle studies, are intended to test the feasibility of a concept. In the case of SARS-CoV-2, it is too infectious to use in an actual test, so POC testing is the ethical choice.



Science Advances 02 Sep 2020:
Vol. 6, no. 36, eabd3083
DOI: 10.1126/sciadv.abd3083
https://advances.sciencemag.org/content/6/36/eabd3083
---
It's Our Anniversary in Pacific Beach!
by Denise O'Hagan, MSPT, ATC Director of Physical Therapy
September 16th marks the one year anniversary of SDSM Physical Therapy Pacific Beach moving into our new location. It has been a year of change, growth, and development at 2204 Garnet Avenue. On January 1st, 2020, new owners acquired the building which has since been named "Med Spa Plaza." Since that time, several renovations and improvements have been made to both the interior and exterior of the building. New paint, improved lighting and security, new flooring, and new landscaping are a few of the upgrades that have been completed. We have received a lot of positive feedback from patients which has been great.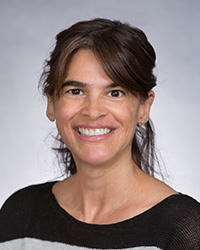 In addition to two full time physical therapists, we now have a part time therapist, Luisa Elizondo, pictured right. Luisa will be seeing patients for Pilates based therapy and we are excited to be able to offer this service. If you have not been to our new location, we encourage you to stop by and see us. We appreciate all of your referrals and the continued support from our SDSM doctors and staff. We look forward to another year of continued growth and success!
In center photo below from left to right: Shawn Renner, DPT; Omega Garalde, Receptionist; Denise O'Hagan, MS, PT, Director of Physical Therapy; Stephan Gonzales, PT Aide


---
Women's Health: Don't Ignore Nausea
by Dr. Jeff Anthony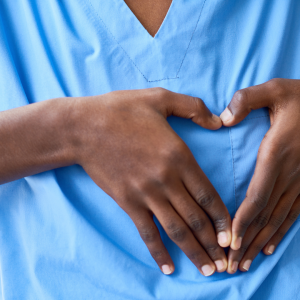 If I had to choose a #1 sign of poor health that no woman should ignore it would be nausea. We often associate nausea with poor food choices, food poisoning, poor digestion, or even pregnancy. Yet in women, nausea can be a sign of serious illness.
Heart disease.
Heart disease is the #1 cause of death in American women and accounts for one-fifth of their total deaths. Women often have very different symptoms of diseases than men experience. Like men, women experience chest pain as the most prominent symptom for heart disease. Unlike men, women often manifest their heart disease with signs like nausea, vomiting, or an upset stomach. Women are more likely than men to experience heart attack symptoms unrelated to chest pain. These symptoms can be more subtle and difficult to recognize.
Subtle signs of heart disease in women:
Neck, jaw, shoulder, upper back or abdominal discomfort
Shortness of breath
Pain in one or both arms
Nausea or vomiting
Sweating
Lightheadedness or dizziness
Unusual fatigue
IndigestionSo, don't let persistent nausea go by the wayside. If you are experiencing nausea or any of the symptoms above please call your SDSM provider and get it checked out. Early detection of disease can prevent many long term complications.

Tools For Women To Prevent Heart Disease:

Exercise regularly: 150 minutes of cardio each week
Limit saturated fat to 10% of your total calories
Limit added sugars to 24g each day
Get 7-8 hours of sleep each night
Manage your stress
Maintain supportive relationshipsFor more detailed information on heart disease in women, we've included an informative video on 'Matters of the Heart', from the National Institute of Nursing Research below.


---

Meet Your Providers: Kristen Manecke
Occupational Therapist/Certified Hand Therapist

Kristen is the newest addition to our Physical Therapy Department and has over 20 years of hand therapy experience. As a Hand Therapist, she is highly skilled in treatments of all upper extremity injuries and disorders including orthopaedic injuries, neurological conditions, and complex trauma. With her background as an occupational therapist, Kristen specializes in customizing treatment plans to the specific daily needs of her clients. In addition to fabricating custom made splints, Kristen also provides soft tissue techniques such as massage and instrument assisted soft tissue mobilization, as well as utilizes a variety of pain relieving electrical and thermal modalities, and kinesiotape.

While in her twenties, Kristen witnessed the decline of her grandmother's independence as she aged. She enjoyed helping her grandmother find ways to continue to do the things she loved like gardening, crocheting, and baking. Kristin felt drawn to a career in which she could continue to help people in this way. Discovering Occupational Therapy (OT), she decided to make it her career. Already having a BA in psychology, Kristen decided to go back to school to become an Occupational Therapist and obtained her OT license from the University of Kansas in 1999, and commenced her career specializing in hand therapy. She moved from Kansas City to San Diego in 2002 "for an adventure", and became a Certified Hand Therapist in 2004.

What is a CHT?
As described by the Hand Therapy Certification Commission, a CHT is an occupational or physical therapist who has a minimum of 3 years clinical experience, including 4,000 hours or more in direct practice in hand therapy, and has successfully passed a comprehensive test of advanced clinical skills and theory in upper quarter rehabilitation. Every CHT is required to demonstrate continued professional development and competency through recertification every 5 years. There are currently less than 7,000 CHT's worldwide.

What is the difference between an Occupational Therapist (OT) and Physical Therapist (PT)?
These two disciplines are very closely related. In fact, OT's and PT's were once the same — during World War I, both professions were known as "reconstruction aides" tasked with veteran rehabilitation. PT's were well versed in exercise and physical rehabilitation, and OT's were skillful in engaging patients in meaningful activities that 'occupied' their time (often including arts and crafts in their treatments). The two worked well together, and separately, to address the physical, cognitive, social, emotional and psychological needs of their patients.

Currently, both OT's and PT's have goals to improve a patient's safety and independence in day-to-day activities and the two disciplines still may overlap a lot. The primary distinction is that a PT's main focus is gross motor function, while an OT focuses on how the patient uses fine motor and cognitive skills to perform tasks that are meaningful to them — helping the patient get back to what "occupies" their time. OT's are also trained to help you perform daily tasks more easily — finding new ways and new tools to do challenging things in a new way. This could include helping you set up an ergonomic workstation to prevent repetitive strain injury, using adaptive tools in the kitchen to compensate for a weak grasp, or learning joint protection techniques to avoid arthritis flare ups.

Kristen is married to Josh, who is a digital marketing expert. Both of them share a passion for traveling and good wine. They enjoy their home with their pug and cat, and often spend weekends doing yard work, home projects, and wine tasting.

To book an appointment with Kristen, call one of our offices below to obtain a referral to our PT Department and Kristen's specialized treatments.

---

Stay safe San Diego.

Don't put off important checks on your health especially if you have diabetes, asthma, COPD, heart problems, impaired immune function, difficulty getting enough sleep, or are experiencing high levels of stress. It's important to maintain your health if you have a chronic condition. Ask us about COVID-19 testing and let us help manage your symptoms if you get sick. We are here for you whether you need a well check, advice on testing or care for COVID-19, or have any other health care need. Our Urgent Care office in Pacific Beach is always available to you. Simply call first so we can be sure to see you safely in clinic.

SDSM continues to practice all CDC recommended infection control measures. Clinics disinfect between each patient interaction with CDC approved disinfectants, employ proper social distancing measures, and follow additional CDC infection control guidelines. When visiting our clinics you can expect fewer people in waiting rooms, to wear a mask or face covering, use hand sanitizer on entry, and be screened for COVID-19 symptoms before entering patient care areas.

We are experts in telemedicine and can coach you on self-care at home, provide advice on medications or necessary prescriptions, and can evaluate your need for an in-person visit. We continue to recommend that anyone with cold/flu/COVID-19 symptoms and patients at increased risk of complications from COVID-19 are best addressed through telemedicine appointments.

Please call us if you feel ill. Whether you have been practicing stay at home measures, traveling, or out in the community, take care to wear a mask, practice a minimum of six foot social distance from others, wash your hands frequently, and avoid touching your face, mouth, and nose. Working together, we can help you to stay safe, healthy, and thrive.

Yours in health,

The Physicians and Staff of San Diego Sports Medicine and Family Health Center