Teens in the Time of Pandemic
By Dr. Shannon Cheffet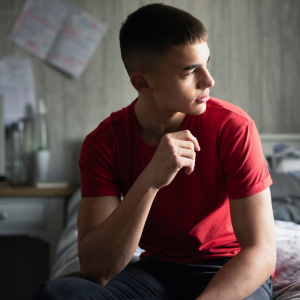 In the last 6 months we have all felt the impact of how a pandemic can affect not only our health, but our spiritual and mental wellbeing. Our communities are navigating the awkwardness of social distancing, fears of economic instability and the loneliness of working/schooling from home. If adults are struggling to find ways to balance the stress and anxiety resulting from our changing culture, how are our teens doing? As a pediatrician and mother of four, these last 6 months have revealed incredible resilience within children and adolescents, and yet, this time has also resulted in a significant increase in mental health concerns for our youth.
In order to help understand the impact stress has on our children, it is important to understand the development of the teenage brain. Adolescence is a time in which the emotion centers of the brain (limbic system) develop rapidly through experiences that stimulate interest and emotion. However, the connections with the prefrontal cortex which processes complex decision making, impulse control, focus and planning skills, is still developing. Therefore, the lack of these executive functions will often result in behaviors which are risky or pleasure seeking.
Now take this developing brain and put it through a pandemic in which teens cannot socialize in person and are reliant upon digital means for communicating and connecting. Most parents are keenly aware of the risks of the digital age on the brain, with regards to focus and mood. However, we now are forced to accept that these electronic portals may temporarily be our children's only means of engaging with their peers. With this increase in the use of social media we can expect to see an increase in digital addiction, depression and anxiety, for some children. The concerns around the social engineering that is occurring with social media is discussed well in documentaries like The Social Dilemma. I would recommend parents watch this with any of their children who engage in social media, so the children can be more knowledgeable and wary consumers. Documentaries such as this and Screenagers, are great opportunities for parents to open the dialogue with their children about healthy and safe ways to use social medial to fulfill their intrinsic need to connect with others.
As our communities reopen, and our children head back to school campuses, we need to reassess positive and negative impacts these last 6 months have had on teens. Some teens may have gained the confidence of mastering a whole new way of learning virtually, while others may have felt the negative spiritual impact of isolation. Other teens may have lost the chance at a senior homecoming game, or the thrill of moving into a freshman dorm. Increased time alone may have resulted in an insidious dependance on social media for some teens, and others may have used this opportunity to start a new non-profit. No matter the success or loss that they have experience during this pandemic, what our teens need is love and support, so please keep that in mind as we navigate these uncharted waters.
Here are some helpful resources:
American Academy of Adolescent and Child Psychiatry resource
Facts for Families: Helping Teenagers Deal With Stress PDF
For Teens: Creating Your Personal Stress Management Plan
Additional websites/articles:
Change to Chill
Psychology Today: 5 Tips to Help Teens Cope With Stress
Information on Social Media and Teens/children:
The Social Dilemma
---
How To Hug During COVID; Is It Worth The Risk?
by Dr. Jeff Anthony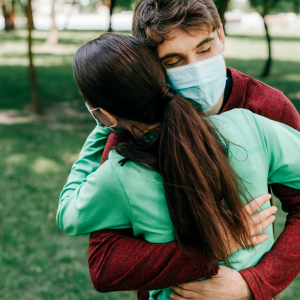 The pandemic has affected our patterns of behavior in countless ways….and one of casualties of social distancing has necessarily been hugs between friends and family. Of course hugs feel good, but do they also improve our well-being? And is there a way to safely hug without putting oneself or another at risk? Let's take a look.
Science shows that social contact like hugs can help reduce stress, and therefore have an impact on problems caused by stress. The pandemic has greatly increased the incidence and severity of life stress for many of us; fear of the disease, loss of jobs / productivity, and the inability to get together with others and do the things we enjoy. Many of our SDSM current patient visits, either face to face or by televisit, are about issues related to stress. Chronic stress stimulates our sympathetic nervous system ("fight, flight, or freeze"), and inhibits our parasympathetic system (digests food, fights off infections, repairs injuries, improves sleep, etc). The resultant effect on our autonomic nervous system negatively influences our gastrointestinal system (diarrhea, IBS, heartburn), elevates our blood pressure (hypertension, headaches, heart disease and even strokes), causes headaches and insomnia, aggravates asthma, and more. The list goes on and on.
Many studies have shown that hugs can reduce the negative effects of stress on our bodies. Hugs have been shown to stimulate the parasympathetic nervous system, and improve our overall well-being.
Hugs are an indication of social support.
Studies show that people who have more perceived social support, and get more frequent hugs, have reduced incidence and severity of illnesses. Hugs not only help prevent illnesses, but may also reduce the severity of the symptoms if you do get sick. In this study, increased hugs reduced susceptibility of getting upper respiratory infections. That's why they say: A hug a day keeps the doctor away!
Hugs stimulate the release of oxytocin. Often referred to as the "cuddle hormone",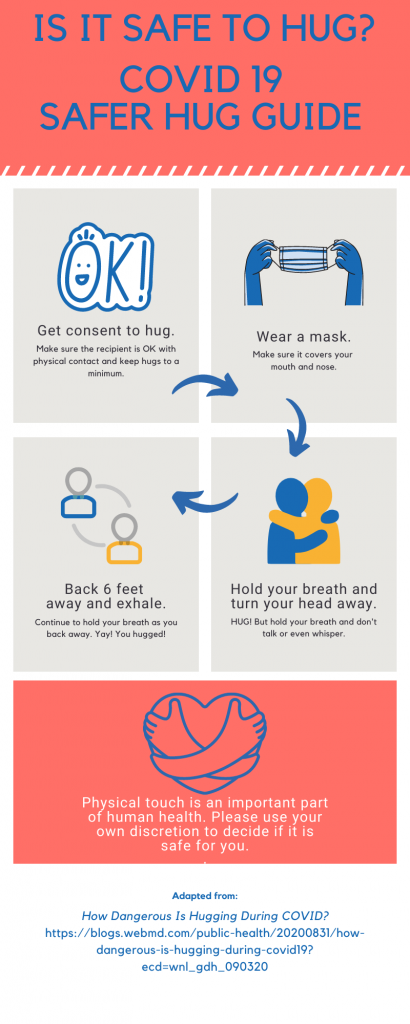 the release of oxytocin is the physiology behind the good feeling that you get when you receive a warm, genuine hug. It improves your mood, puts a smile on your face, and lifts your spirits!
Suffice it to say that hugs are important and beneficial to us all, even during this pandemic. But how do we reap the benefits of hugging while still respecting the need to do our part in controlling the spread of disease?
Safer hugs.
Below are steps for safer hugging while the pandemic continues. Keep in mind that you should be more cautious if either person is in the high health risk category (elderly, diabetes, compromised immune system, heart disease, etc.). Next, hugging outside is better than in an enclosed space. Remember, it's possible to spread COVID even if you have no symptoms.
Here's the technique:
Get consent to hug someone before you actually go in for the clinch (common sense here)
Both should wear a mask
Easily hold your breath as you approach the other person for the hug
Turn your head away as you embrace for a few seconds
Keep holding your breath (don't talk or even whisper)
Exit the embrace and immediately back at least six feet away
Turn your head away from the other person and exhale
It may seem a little arduous at first, but a little modification in your technique shows that you respect the other person as you're showing social support, and you're benefiting the well-being of both of you!
Feel free to share our infographic of how to hug by downloading here. Happy Hugging!
---
HEALTH BITES:
SDSM doctors are seeing new and different problems that patients are experiencing due to the pandemic. Patients that are exposed to the stress of COVID-19 but are not getting sick seem to experiencing more alopecia which is hair loss. Stress is a known cause of hair loss, so taking steps to destress each day may help prevent losing your hair. Biotin has been touted as helpful to restore hair growth but results are not consistent. Your best option is to improve your stress resiliency. Stress resiliency can be improved with proper sleep, moderate exercise, meditation, play or having fun, time spent with loved ones, and a healthy diet.
October is Breast Cancer Awareness Month. One in seven women will be diagnosed with breast cancer each year. Some of the risks associated with breast cancer can't be changed: your age, genetics, family or personal breast cancer history, race or ethnicity, or benign changes in your breasts. What you can do is maintain a healthy weight, exercise regularly, limit alcohol intake, eat plenty of fruits and vegetables, and don't smoke or vape. Newer research has identified emerging risks that include exposure to light at night which disrupts circadian rhythm, low Vitamin D levels, and exposure to chemicals in cosmetics, sunscreens, food, plastics, lawns, and gardens. Reducing unnecessary exposure to chemicals from all sources may be prudent.
Don't get complacent about wearing masks as the rates of COVID-19 ebb and flow. It is the nature of this virus to be more easily spread in clusters and from people with higher viral counts. Large gatherings can expose individuals to a higher number of virus particles. Hence, the recommendation to avoid large gatherings. A recent analysis of 9500 COVID-19 infections has shown that 2% of the infected were responsible for 20% of the infections. Research from Hong Kong found similar results with 20% of infections creating 80% of total infections, and in a peer reviewed paper from the London School of Hygiene and Tropical Medicine estimated 80% of total infections to have originated with 10% of the infections. Masks can reduce your risk of infection and severity of symptoms because they limit the amount, or inoculum, of virus to which you can be exposed. They also reduce the risk of spreading the disease to others. So keep wearing a mask to curtail airborne transmission, wash hands and wipe down high touch surfaces frequently to reduce contact with viral particles that can be transferred by touch.


---

Meet Your Providers: Dr. Geoffrey Lange


Hi Everyone! I am Dr. Geoff Lange and one of the new providers at San Diego Sports Medicine & Family Health Center. I am originally from Modesto, CA and as such I root for the Sacramento Kings and for the 49ers. My undergraduate education was at Brigham Young University where I studied Exercise Science and minored in chemistry. I then served a 2-year mission for my church in Mongolia and as a result I am fluent in Mongolian. After my mission, I studied medicine at Touro University California. I went on to do residency in Family Medicine at Kaweah Delta in Visalia, CA and finished my training with a Sports Medicine Fellowship at Eisenhower Health in the Palm Desert.

My special interests revolve around basketball and golf.
I am TPI certified (Titleist Performance Institute Level 1) and love learning about the golf swing mechanics, pitfalls, and injuries that occur in the sport. When I'm not at work, or on the course, I enjoy spending time with my wife and two kids.

Treating patients on an individual level has been very rewarding for me. I am so honored to join San Diego Sports Medicine. I feel lucky to work at the Alvarado office and look forward to adding to the already amazing culture.

---

Stay safe San Diego.

Don't put off important checks on your health especially if you have diabetes, asthma, COPD, heart problems, impaired immune function, difficulty getting enough sleep, or are experiencing high levels of stress. It's important to maintain your health if you have a chronic condition. Ask us about COVID-19 testing and let us help manage your symptoms if you get sick. We are here for you whether you need a well check, advice on testing or care for COVID-19, or have any other health care need. Our Urgent Care office in Pacific Beach is always available to you. Simply call first so we can be sure to see you safely in clinic.

SDSM continues to practice all CDC recommended infection control measures. Clinics disinfect between each patient interaction with CDC approved disinfectants, employ proper social distancing measures, and follow additional CDC infection control guidelines. When visiting our clinics you can expect fewer people in waiting rooms, to wear a mask or face covering, use hand sanitizer on entry, and be screened for COVID-19 symptoms before entering patient care areas.

We are experts in telemedicine and can coach you on self-care at home, provide advice on medications or necessary prescriptions, and can evaluate your need for an in-person visit. We continue to recommend that anyone with cold/flu/COVID-19 symptoms and patients at increased risk of complications from COVID-19 are best addressed through telemedicine appointments.

Please call us if you feel ill. Whether you have been practicing stay at home measures, traveling, or out in the community, take care to wear a mask, practice a minimum of six foot social distance from others, wash your hands frequently, and avoid touching your face, mouth, and nose. Working together, we can help you to stay safe, healthy, and thrive.

Yours in health,

The Physicians and Staff of San Diego Sports Medicine and Family Health Center