Telemedicine Appointments, COVID, and Getting Vaccinated
COVID cases are on the rise (again) and we encourage you
to take advantage of our telemedicine visits. They are easy, keep you safe, and out of San Diego traffic! Telemedicine visits are perfect for follow-up appointments, lab results review, prescription renewals, assessing your need for additional care, and the best way to help you with a cold, flu, or COVID! Just call any of our offices and let us know you'd like to schedule a telemedicine visit.
Getting vaccinated is the best way to protect yourself from getting COVID-19 or experiencing a severe case of COVID-19. Many businesses and employers may require vaccination in the near future. Remember, it takes about 45 days to become completely vaccinated. There are 21 days between the first and second dose of the Pfizer, and 28 days between the two doses of the Moderna vaccines. You are not considered fully vaccinated until two weeks after the second dose of Pfizer or Moderna, or two weeks after one dose of the J&J vaccine. So don't delay, get vaccinated today!
If you have questions about the COVID-19 vaccine, please give us a call. We are happy to answer your questions. Getting vaccinated at doctor's offices is no longer an option. To get vaccinated you will need to find a vaccination location—don't worry it's easy and we've given you some links below.
You can find a vaccination location and schedule an appointment at this San Diego County Vaccine page.
Other options to get vaccinated include local pharmacies, many with walk-in and same-day appointments. Click the link below to find and schedule an appointment near you.
Olympic Updates and the Paralympics Are Coming!
Not only has SDSM been involved in the Toyko 2020 Olympics, but we are also serving as medical providers to the US Para Track and Field, Para Tennis, Para Cycling, and Para Archery Teams in the upcoming Paralympics. We look forward to watching these incredible athletes compete from August 24 to September 5, 2021.
In addition to Drs. Rice, Look and Myers having very successful trips to Tokyo, SDSM doctors continue to see and treat athletes on the USA Team daily in our office and over the phone to Tokyo for Team USA BMX and Track & Field.
Below are some details Dr. Myers shared in a wonderful update from Toyko and some great photos of the venue as she supported Team USA Rugby (Women).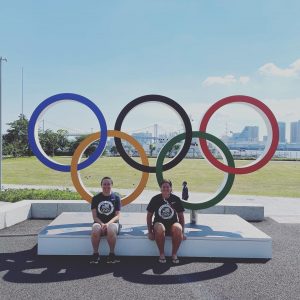 'Now that we are in Tokyo we are divided between the Village and a hotel. Some of the staff (including me) are at a hotel due to space restrictions in the Village. Team USA has its own building which includes a whole floor for Sports Medicine. There are many familiar faces there – people that our team at SDSM works with throughout the year at the Chula Vista Elite Athlete Training Center.
The Village is vibrant and full. Everyone is masked and there are hand washing or sanitizing stations every 5 feet. The dining hall is two level and there are plexiglass dividers between each player for safety while unmasked. The food options are diverse – there are vegan, gluten-free, and halal options. It is fun to see all the athletes mix throughout the village – in fact, I saw Yao Ming (now a coach) with Team China just today!'
You can read more from Dr. Myers here.
Clockwise from left: Dr. Look at the medal ceremony serving as the team physician for Team USA Rugby (Men); Dr. Myers and Dr. Look; Dr. Look sports a traditional Japanese robe provided to the US Team members after a 'nerve racking' time getting through COVID testing and security.
Congratulations to Dr. Lee Rice who has authored the article, 'Surfing', published in the August issue of The Journal of Sports Medicine and Physical Fitness. The article addresses the history of surfing, risk of injuries, treating injuries, and surfing as a therapy. Dr. Rice serves as the Chair of the Medical Commission for the International Surfing Association (ISA). This was the first Olympics to include Surfing thanks to the tireless efforts of Fernando Aguirre, President of the International Surfing Association (ISA) and friend of SDSM. Fernando, you're the best!
Dr. Rice at the jetty on the Olympic beach.
Rice EL. Surfing. J Sports Med Phys Fitness 2021;61:1098-1103. DOI: 10.23736/S0022-4707.21.12847-6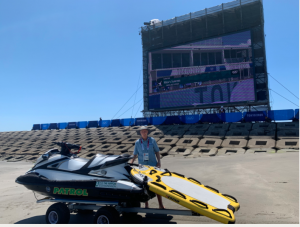 Want to learn more about the Mediterranean Diet?
The Mediterranean Diet has some of the best evidence for reducing inflammation, prevention of cardiovascular and metabolic disease, and prevention of cancer and depression. Join Linda Illingworth, RDN for an online Lunch 'n Learn next Thursday, August 12 at 12 pm. Grab your lunch and tune in for a discussion on the many health benefits, what to eat, what not to eat, and how to make this way of eating part of your lifestyle.
Registration now closed…see ya next time!