Urgent Care Corner
by Dr. David LaRue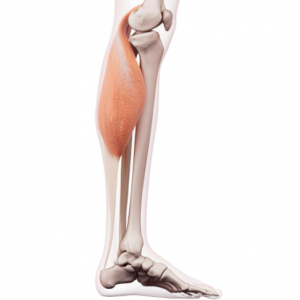 No one knows why we walk.
Out of some 250 primates, we are the only ones to have dropped down from the trees to get up and move around on two legs. Walking is clearly an under-appreciated skill! Balance, strength, coordination — 200 muscle groups partake for just one step in permanent defiance of gravity. This is a concert symphony with brain and spinal cord conducting electrical signals in milliseconds (Yes, 1/1000th of a second or 33,000 MPH) to and from our muscle fibers.
We've been refining this skill for some 3.2 million years and you would curiously wonder why we are so bad at it. Consider this… ankle, foot, and falling account for 39,000,000 injuries per year. The foot and ankle are wonders of biomechanical perfection. From heel strike to the arch support ending in the intended graceful "toe off," our feet propel us withstanding nearly 7 times our body weight (let's just say 1,000 pounds). A new appreciation arises for the slam dunk, the volleyball spike, the ballet pirouette or perhaps the more daunting modern day high heel! Mishaps including sprains, strains, fractures and lacerations are abundant. Odd inflammatory maladies plague us including uricemic tophi (gout), thrombophlebitis, septic arthritis, and the soft tissue nemesis…necrotizing fasciitis (flesh eating bacteria). We rapidly diagnose these conditions with a history, exam, onsite x-ray and blood analysis. Treatment consists of splinting, crutches, antibiotics, anti-inflammatories, and the occasional steroid injection. So, if you are dunking like LeBron James, or more humbly negotiating a San Diego sidewalk, our walk-in urgent care is prepared to treat you…wheelchair provided if you are unable to walk!
In addition, we can refer you to Physical Therapy at SDSM. Our physical therapists are experts at helping you regain function and help you get back in the action, safely and injury free.
---
Olympic Update from Dr. Alexandra Myers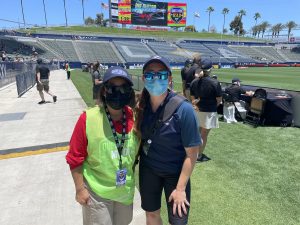 Going back to Spring 2020 I am reminded of the many Zoom meetings where the staff and I contemplated alternate plans for a delay to the Olympics, or an outright cancellation. Needless to say, I have a lot of respect for what the USA Rugby staff and athletes have done over the last year. They maintained a high level of fitness and skill level despite a lack of competition for nine months. They began competing again in Winter 2021, but even then there were many limitations due to COVID-19. Most recently they competed in the Quest for Gold tournament in LA, and I was able to travel with them during that time. During my firsthand experience I saw how intense it was to isolate from the general public and family – this is becoming increasingly difficult given that California currently has very few COVID-19 restrictions. We were tested daily and the team has been symptom tracking for over a year.
As a Doctor of Osteopathic Medicine during this intensive time, it has been important for me to remember the Osteopathic Tenets.
First, the person is a unit of body, mind, and spirit. In this case, both the athletes and staff members are individual units, and the team and staff create a unit as well. Every decision had to include consideration that one cannot plan for a single part of the unit without considering the whole.
Second, the body is capable of self-regulation, self-healing, and health maintenance. While many things changed during the COVID-19 pandemic, the team and staff had coping mechanisms in place to handle these changes. The resiliency of the team and staff were evident throughout this challenging year.
Third, structure and function are reciprocally interrelated. Despite the need for social distancing and isolation, the structure of the team and staff had to be maintained in order for the group to function in a successful manner.
Lastly, rational treatment is based upon an understanding of the basic principles of body unity, self-regulation, and the interrelationship of structure and function. This last tenet is the most important: no matter what the external factors were, we could step back and respect the capabilities of both the individual and the group to self-regulate.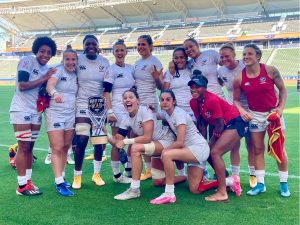 I am proud of what the athletes and staff have accomplished this year. On a personal level, I had to adapt to care for athletes remotely, managed many COVID-19 cases and exposures, and have advised the teams on many aspects of training and competing during this pandemic. It has offered a new dimension to my practice, and I have been thankful to work with such a dynamic and intelligent group of people. I am hopeful that this work will culminate in huge successes in Tokyo! Go Team USA!!
---
Nutrition: Antioxidant Summer Refreshment
by Linda Illingworth, RDN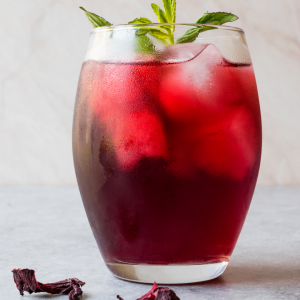 Consumed hot or cold, hibiscus tea is a great way to include more antioxidants. Hibiscus tea is made from the flower of the hibiscus bush. The petals are dried and steeped, and the presence of anthocyanins create a beautiful magenta color. The petals contain Vitamin C, pectin, and the anthocyanins which give hibiscus both a sweet and astringent flavor. This tea is especially good garnished with a spear of pineapple.
Hibiscus has some important health benefits. In traditional medicine, it has been used as a diuretic and mild laxative. More recent studies have indicated it can significantly reduce blood pressure. In this study, two subject groups consumed the DASH diet, restricted sodium intake, and exercised. One group also included two cups of hibiscus daily for one month. Both groups had a significant reduction in systolic blood pressure, but the mean reduction in systolic and diastolic blood pressure was significantly greater in the group consuming hibiscus tea.
Plants can be powerful partners in our health and have been the source of many modern medications. The chemicals that give plants medicinal properties can also interfere with some medications. Hibiscus can increase the clearance of statin medication and reduces the effectiveness of chloroquine. If you take these medications, an occasional hibiscus tea may pose no problem, but check with your provider before making it a daily habit.
To Make Hibiscus Tea:
Using cold water:
1 ounce of dried hibiscus flowers
4 cups of cold water
1 cinnamon stick, (optional)
Stevia or honey to sweeten, (optional)
Pineapple spear to garnish, (optional)
Place ingredients in a pitcher or large jar. Steep several hours or overnight.
Chill and enjoy!
Using hot water:
Pour 1 cup boiling water over 2 tsp. dried hibiscus flowers.
Steep for 10-15 minutes.
Sweeten with Stevia or honey if desired
NOTE: If you can't find hibiscus flowers, try Traditional Medicinals Hibiscus tea bags
References:
1. Serban C, Sahebkar A, Ursoniu S, Andrica F, Banach M. Effect of sour tea (Hibiscus sabdariffa L.) on arterial hypertension: a systematic review and meta-analysis of randomized controlled trials. J. Hypertens. 33(6):1119-27 Jun, 2015
2. Jalalyazdi M, Ramezani J, Izadi-Moud A, Madani-Sani F, Shahlaei S, Ghiasi SS. Effect of hibiscus sabdariffa on blood pressure in patients with stage 1 hypertension. J Adv Pharm Technol Res 10(3):107-111 2019 Jul-Sep
---
Quick update on masking and COVID screening protocols
The County of San Diego and State of California still require health care providers to enforce facial coverings at any location where health services are delivered. That means our providers, staff, patients, and visitors are all required to wear masks inside our facilities. We are continuing our same protocols of screenings patients and visitors for symptoms and exposures, inquiring about vaccination status, social distancing, and following COVID sanitation practices. We will update our policies in the future as allowed and as appropriate so that we can continue to provide a safe environment for our patients and staff.
Be sure you are signed up for MyChart
Please be sure you are signed up for MyChart. It is the best way to communicate with your provider, keep track of vaccine appointments, request refills, get referrals, and make appointments. You can also pay for services through the handy MyChart app. Learn more on how to sign up for MyChart here.