Vaccine Appointments via Twitter Bots
You may be familiar with the difficulty in finding open appointments for COVID vaccines. Twitter has a solution! Twitter can alert you when vaccine appointments are available in your area.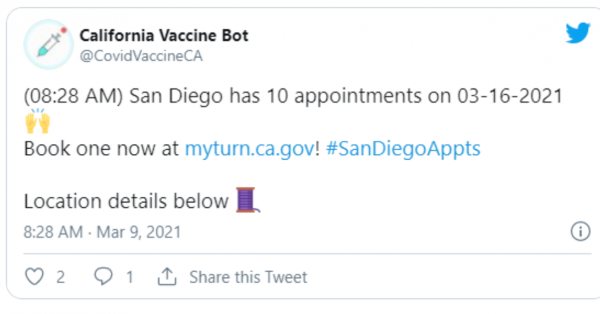 Visit Twitter at https://twitter.com/CovidVaccineSD?s=20 where you can login or create an account, and sign up to follow Twitter's Vaccine Bot. Afterwards, stay tuned for Tweets about when to find available appointments!
---
YOUR COVID VACCINE QUESTIONS AND ANSWERS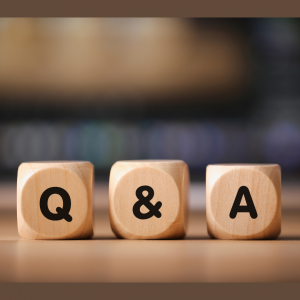 by Dr. Jeff Anthony
Mammograms and the COVID Vaccine
When a vaccine is injected into the arm it can cause an inflammatory response which is drained to the underarm (axillary) lymph nodes. These swollen lymph nodes may be seen on the mammogram, which can mimic a sign of breast cancer since the outer border of the breast extends up to the axillary area.
During the vaccine trials with Pfizer and Moderna, the CDC stated that both men and women showed axillary lymph node swelling, a response which also happens with other vaccines. In order to lessen the possibility of experiencing this finding, The Society of Breast Imaging recommends women get their mammogram before getting the COVID vaccine, or wait 4-6 weeks after the second vaccine to minimize false positive mammograms.
What should you do before your COVID vaccine?
Before getting your vaccination, be sure to eat something and drink plenty of water. Eating food can help to reduce lightheadedness that may occur from the process. Hydration is important every day, but especially when your body is dealing with a foreign substance and is working to mount an antibody response.
What not to do after the vaccine.
Don't post a picture of your immunization card online. The Better Business Bureau warned that this card, which has your name and date of birth, can be used to steal your identity.
When will we know that the pandemic is over?
Many experts believe that the pandemic will be 'over' when the numbers match the typical flu numbers in our country. Although it's very difficult to reach zero COVID cases, the next best thing is to become an endemic disease, one that still lingers in the community at low levels but doesn't inflict severe illness very often. This means fewer than 5,000 new cases a day and less than 100 deaths a day nationally, which is close to the typical mortality of influenza in the US in one year. Rough projections indicate this may happen in early June.
---
Vaccines for Long Haulers
By Dr. Alex Bernadett
The Washington Post released an article this week regarding COVID vaccination in the COVID Long Hauler population, a topic previously covered in this newsletter. The WP article highlights the anecdotes of two COVID Long Hauler patients whose severe symptoms resolved after they received COVID vaccination.
The Washington Post article also references a small study performed by the University of Bristol in England, which was released for preprint earlier this week. This study shows early evidence that COVID Long Haulers can safely receive the currently available COVID vaccinations. COVID Long Hauler participants in this study did not display worsening of "Long COVID" symptoms, quality of life, or mental well-being one month after their vaccination series.
The WP article interviews multiple medical experts to gather insight as to why this would be the case. The conclusion? We're still trying to figure out why this pattern is emerging. As with many aspects of the COVID-19 Pandemic, and to borrow a catchphrase from one of Dr. Rohrer's patients, we continue to build the ship as we sail it.
Comparison of Currently Available Vaccines
This infographic provided by MedPage Today help illuminate the details of the three currently available vaccines in the U.S. You can read more here.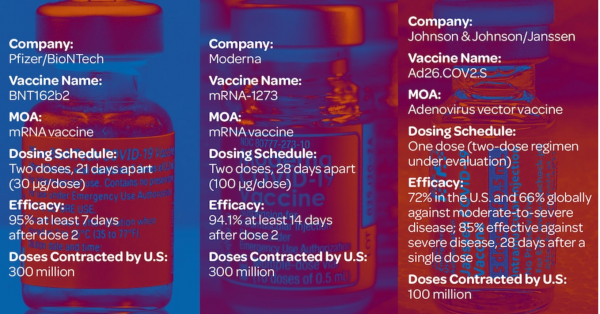 Photo credit MedPage Today
---
Different COVID Experiences for Men and Women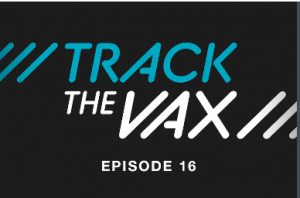 By Linda Illingworth, RDN
Disease can be experienced differently for men than for women and this also holds true for the current pandemic. Men seem to experience more severe symptoms from COVID-19, while women are more reactive to the vaccine. On a recent episode of Track the Vax, Sabra Klein, PhD of John Hopkins Bloomberg School of Public Health discussed the biological reasons behind these differences.
Men are approximately three times more likely to be admitted to the ICU for severe disease due to COVID-19 than women. This is thought to be due to the genes that we inherit from our parents and related to the two X chromosomes that code for the female sex, and the one X and one Y chromosome that code for the male sex. Much of our immune response is linked to the X chromosome. Just because women have two X copies doesn't mean they have double the immune protection. The immune response on one of the X-linked genes is mostly inactivated, but about 15% of these X-linked genes escape inactivation. This extra 15% of immune activity may be providing extra protection and thus fewer severe COVID cases in women.
When it comes to COVID vaccinations it's a different story. Men experience fewer vaccine reactions reporting less injection site pain, fever, and body aches. While men are less likely to report symptoms in general, the anti-inflammatory effects of testosterone may be responsible for reducing reactivity. Testosterone has an anti-inflammatory effect and may provide a more robust anti-inflammatory response to the vaccine. Women have less testosterone than men and this might be why some women experience more vaccine reactivity.
There are also interesting anecdotal reports for women with long hauler symptoms that need more study. Women 'long haulers' have reported changes in menstrual patterns. Those experiencing on-going fever have reported an absence of fever during the time of their period. Research on women in general has not been as robust due to prior exclusions by law designed to protect women of childbearing age. This and other interesting facts are discussed further in the podcast. You can listen here.
---
Stay safe San Diego.
As we continue the process of vaccination against COVID-19, we strive to bring you timely and helpful information. Our providers and staff are here to answer your questions and help you keep up with all of your healthcare needs.
Please call us to schedule important checks on your health, refill prescriptions, referrals, or any other health need. You can also request prescription refills and appointments through MyChart.
Chronic conditions that may increase risk of worse COVID-19 symptoms include diabetes, asthma, COPD, heart problems, impaired immune function, difficulty getting enough sleep, or high levels of stress. It's important to maintain your health if you have a chronic condition. Ask us about COVID-19 testing and let us help manage your symptoms if you get sick. We are here for you whether you need a well check, advice on testing or care for COVID-19, or have any other health care need. Our Urgent Care office in Pacific Beach is always available to you. Simply call first so we can be sure to see you safely in clinic.
SDSM is dedicated to practicing all CDC recommended infection control measures. Clinics disinfect between each patient interaction with CDC approved disinfectants, employ proper social distancing measures, and follow additional CDC infection control guidelines. When visiting our clinics you can expect fewer people in waiting rooms, to wear a mask or face covering, use hand sanitizer on entry, and be screened for COVID-19 symptoms before entering patient care areas.
Don't forget telemedicine appointments are an option that can save you time and travel. We are experts in telemedicine and can coach you on self-care at home, provide advice on medications or necessary prescriptions, and can evaluate your need for an in-person visit. We continue to recommend that anyone with cold/flu/COVID-19 symptoms and patients at increased risk of complications from COVID-19 are best addressed through telemedicine appointments.
Please call us if you feel ill, even if you believe you had no exposure to someone who has been sick. We urge you to observe stay at home measures, avoid traveling, take care to wear a mask, practice a minimum of six foot social distance from others, wash your hands frequently, and avoid touching your face, mouth, and nose. Working together, we can help you to stay safe, healthy, and thrive.
Yours in health,
The Physicians and Staff of San Diego Sports Medicine and Family Health Center