Shake Up Your Pandemic Workout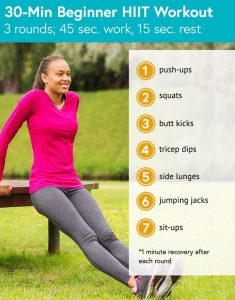 By Courtney O'Bryan, DO
Ready to shake up your pandemic workout routine? HIIT is a workout modality that may be worth exploring. What we know is that the most prevalent predictive factor for developing cardiovascular disease is low cardiopulmonary fitness. Lack of time is cited as the most common reason for not exercising. HIIT is both a time efficient and effective method for rapid improvement in cardiopulmonary fitness and body composition. Here's some answers to common questions about HIIT and a 30-Minute HIIT Workout Guide you can download.
Q: What does HIIT stand for and what exactly does it mean?
A: HIIT=High Intensity Interval Training. It is defined as short bursts of vigorous activity interspersed with periods of rest/low intensity activity.
Q: What does the literature say about HIIT?
A: It has been shown time and time again that HIIT induces a greater 24-hour energy expenditure following a workout compared to traditional endurance type exercise despite the reduced time commitment. As few as 2 weeks (3x/week) of HIIT improves cardiorespiratory function, increases insulin sensitivity (therefore lower blood glucose) and decreases visceral fat. HIIT was even shown to have superior cardiovascular effects when compared to traditional endurance exercise in patients with chronic heart failure.
Q: What equipment do I need for a HIIT work out?
A: A benefit of HIIT is that you can do it almost anywhere with or without any equipment. You can use a treadmill, stationary bike, jump rope, free weights, resistance bands or just your own body weight to get a great workout.
Q: How do I structure a HIIT workout?
A: There are multiple resources available out there on the web for example HIIT routines and even more on sites such as YouTube that guide you through the routines entirely. You can search for very specific routines tailored at cardiovascular fitness, upper body strength, lower body strength, core or total body workouts. Click on this link for a 30-Minute HIIT Workout Guide. You can always modify exercises to work around injuries or limitations. For example: a jump squat can be modified to eliminate the jump entirely or can be replaced with a static wall sit if needed. There are low impact routines as well for those who should avoid jumping all together.
Q: What don't we know about HIIT workouts?
A: More research is needed to determine the long-term effects of HIIT style workouts. This includes how long do these physiological adaptations last after stopping this form of exercise. There is also more to be studied regarding the effects of HIIT workouts when combined with diet changes.
All it takes is 5 minutes, or more if you've got it! So get out there and give this highly effective form of exercise a try!
---
How to Talk to Young Athletes About Sports During COVID-19 Times
'For the 800,000 youth athletes in California, participating in organized sports or leagues, exercise is a key to maintaining physical and mental health. Therefore, balancing sports activities with COVID precautions is essential to navigating the pandemic.' ~Susan Glockner, MD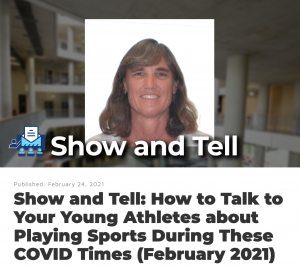 Since stay-at-home orders have lifted, youth sports are now in a state of flux. Dr. Susan Glockner discusses the many issues surrounding return to play that affect our youth in this article from the California Academy of Family Physicians.
While private teams may find ways to return to play, participation in scholastic sports may be delayed. Safety concerns regarding the spread of COVID-19 and the fairness of decisions on who can return to play are just a of few issues affecting youth sports. If you are a coach or parent of a young athlete, you will find great information and guidance on how to discuss sports during this challenging time.
---
Help for COVID Long Haulers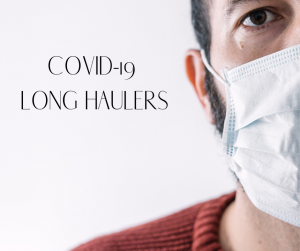 By Linda Illingworth, RDN
Last month Dr. Anthony discussed COVID-19 'long haulers' which are the patients who experience long term consequences of a COVID-19 infection. While symptoms can be persistent, there is reason to believe that self-care practices used to reduce inflammation in other inflammatory diseases can be effective in helping to manage the inflammation experienced by COVID-19 long haulers. Self-care is important as it can contribute to our sense of control over certain aspects of our lives and about our destiny. It also helps us be better partners with our healthcare professionals and be an active participant in our healthcare.
The World Health Organization recently released a paper on guidance for self-care practices for people suffering from COVID-19. In addition, the University of Arizona College of Medicine, at the Andrew Weil Center for Integrative Medicine published a paper on considerations for the convalescence from mild to moderate COVID-19. From an anti-inflammatory diet, art appreciation, getting out into nature, and getting enough sleep, there are many things you can do to help reduce inflammation and support recovery. The links to both papers are below, with some key highlights from the University of Arizona School of Medicine paper below.
Self-Management after COVID-19 Related Illness – WHO
Considerations for the convalescence from COVID-19
Anti-inflammatory diets.
Inflammation is the calling card of COVID-19 and so theoretically, behaviors and practices that help modulate inflammatory pathways may be of benefit in treatment and recovery. The Anti-inflammatory diet has been shown to be beneficial in reducing C-reactive protein, IL-6 and other common markers of inflammation associated with heart disease, autoimmune disorders and other chronic diseases. Anti-Inflammatory diets have been found to improve lung function and lower mortality rates in people with COPD. Other studies have found reduced airway inflammation and oxidative stress associated with a higher consumption of fruit and vegetables. Having a nutrition routine that includes a high consumption of vegetables, fruit, legumes, fish, lean protein, whole grains, spices, nuts and seeds, combined with a low consumption of refined grains and processed foods has been found to modulate inflammation.
Dietary adequacy.
Infections in general are catabolic processes that lead to temporary nutrient deficiencies of protein, B vitamins, zinc, iron, and copper. Additional protein consumption could improve recovery for older adults. As recommended in the PROT-AGE Study Group, individuals 65 years of age and older may best benefit from 1.0-1.2 g of protein per kilogram of body weight (0.45-0.54 g per pound) to maintain lean body mass and function. One study on hospitalized COVID-19 patients reported that as many as 76% of patients were deficient in Vitamin D and 42% deficient in selenium. Diets that provide adequate Vitamin D are associated with lower rates of upper respiratory infections.
Food sources of Vitamin D: fortified nut milks and dairy products, organ meats, and mushrooms
Food sources of selenium: halibut, tuna, oysters, whole grains, eggs, particularly high in Brazil nuts
Creative expression.
A body of scientific evidence supports the use of the visual arts, music, and expressive writing in enhancing immunity and improving psychological well-being. In addition, creative expression was found to improve chronic pain and increase lung function. Easy ways to exercise your creative side include keeping a gratitude journal, finger painting with your kids, using doodling or coloring books, and DIY home projects. When you listen to your favorite music, dance, or view beautiful photographs, you can support healing and lessen the sensation of pain.
Nature and optimizing your environment.
Noise, light, humidity, and crowding can all contribute to our allostatic load of stress. Environmental effects like nature sounds and full spectrum sunlight in the morning can counter the stress response. Humans have a dependence on full spectrum light, and a preference for green spaces. Views of nature and being in nature were shown to speed post-surgical recovery and forest bathing has garnered much interest due to the research linking it to improved immune function. Nature can be as close as your front door. Gather some beautiful leaves, sprigs of rosemary, or pinecones from your yard, or invest in some houseplants. Try to get outdoors for a few minutes each morning to experience the full spectrum of sunlight that influences our sleep at night and immune function.
Exercise and Qigong.
Many studies have found that moderate exercise prior to viral infection is correlated with lowering the severity of illness. People recovering from lung infections were found to significantly increase their 6-minute walk distance when combining diaphragmatic breathing exercises prior to exercise.
Qigong is an ancient practice of meditation, breathing and slow movements. Researchers assessed the benefits of Qigong for its potential in prevention and treatment of COVID-19. They concluded that Qigong can be effective in strengthening respiratory muscles, management of stress, reduction of inflammation, and improved immune function.
We encourage you to practice self-care and do the things that make you feel good. Get out into nature, get plenty of sleep, have fun, and find ways to move your body. What's most important is to take time each day to practice some self-care. As the evidence shows, healthy self-care practices can help you live a healthier and happier life.
---
Confirm Your MyChart Account
If you are unsure if you are signed up for MyChart, please check using this link to sign in. If it appears you still need a MyChart account, email us at CV19info@sdsm.com so we can send you an access code. More details on signing up are below.
It is more important than ever to keep you informed as new tiers of the COVID-19 vaccination plan become available to you. It will be an important tool to ensure you get the second dose on time. If you already have MyChart, please be sure to follow through and review any communication you get from us. It could contain important information about the vaccine and vaccination appointments. Because the COVID-19 vaccination requires two doses, it is important that we can contact you through MyChart to ensure you receive the second dose at the correct time.
How to sign up for MyChart:
Option 1:
Go to sdsm.healthmychart.org
Register with your access code which will be sent via email or text.
If you do not have an access code, please EMAIL US at CV19info@sdsm.com to request one. Do not call the Customer Support number on the sign up webpage.
Option 2: Sign up without an activation code
This option requires you enter your information exactly as it is recorded in your medical record.
Go to https://mychart.ucsd.edu/ucsd/signup
If you have problems, EMAIL US at CV19info@sdsm.com
There are many benefits to having access to MyChart. You can easily communicate with your providers without having to wait on hold. You can request prescription refills and appointments. You can even schedule some types of appointments yourself. You are able to view a generalized health summary, and obtain test and lab results. You will also have access to your After Visit Summaries from each of your appointments. Please take a few moments to sign up today!
---
Stay safe San Diego.
As we continue the process of vaccination against COVID-19, we strive to bring you timely and helpful information. Our providers and staff are here to answer your questions and help you keep up with all of your healthcare needs.
Please call us to schedule important checks on your health, refill prescriptions, referrals, or any other health need. You can also request prescription refills and appointments through MyChart.
Chronic conditions that may increase risk of worse COVID-19 symptoms include diabetes, asthma, COPD, heart problems, impaired immune function, difficulty getting enough sleep, or high levels of stress. It's important to maintain your health if you have a chronic condition. Ask us about COVID-19 testing and let us help manage your symptoms if you get sick. We are here for you whether you need a well check, advice on testing or care for COVID-19, or have any other health care need. Our Urgent Care office in Pacific Beach is always available to you. Simply call first so we can be sure to see you safely in clinic.
SDSM is dedicated to practicing all CDC recommended infection control measures. Clinics disinfect between each patient interaction with CDC approved disinfectants, employ proper social distancing measures, and follow additional CDC infection control guidelines. When visiting our clinics you can expect fewer people in waiting rooms, to wear a mask or face covering, use hand sanitizer on entry, and be screened for COVID-19 symptoms before entering patient care areas.
Don't forget telemedicine appointments are an option that can save you time and travel. We are experts in telemedicine and can coach you on self-care at home, provide advice on medications or necessary prescriptions, and can evaluate your need for an in-person visit. We continue to recommend that anyone with cold/flu/COVID-19 symptoms and patients at increased risk of complications from COVID-19 are best addressed through telemedicine appointments.
Please call us if you feel ill, even if you believe you had no exposure to someone who has been sick. We urge you to observe stay at home measures, avoid traveling, take care to wear a mask, practice a minimum of six foot social distance from others, wash your hands frequently, and avoid touching your face, mouth, and nose. Working together, we can help you to stay safe, healthy, and thrive.
Yours in health,
The Physicians and Staff of San Diego Sports Medicine and Family Health Center