SDSM Pilates-based Physical Therapy and Insurance Coverage
Did you know that SDSM Physical Therapy offers Pilates-based physical therapy which may be covered by health insurance? We are able to incorporate and teach the Pilates fundamentals in your physical therapy treatment plan as a therapeutic exercise exercise covered by many health plans. This allows patients to become familiarized with the Pilates concepts and they can discover whether or not it's the right form of exercise for them. After doing a round of Pilates based physical therapy, most patients discover the benefits of the program as they typically find pain relief, postural improvements, and functional gains from the Pilates practice. Patients can then transition to our Pilates classes in our wellness center to further carry on their practice.
---
Update on Use of Face Coverings and Masks
By Dr. Alex Bernadett
If there's one thing you should take away from this article, let it be this:
The better your mask fits your face, the better protected you'll be!
On February 10th, 2021, the CDC released a summary of studies regarding mask effectiveness. The studies, which were conducted in a laboratory-based setting using dummy models, demonstrated two methods that provide more protection against airborne particles. The first is wearing a cloth mask over a medical procedure mask. The second method is to knot the ear loops of a medical procedure mask and then tuck in and then flatten the extra material close to the face. Both of these methods gave the mask wearer more protection against airborne particles. In other words, wearing two masks was as effective as wearing one well-fitted mask.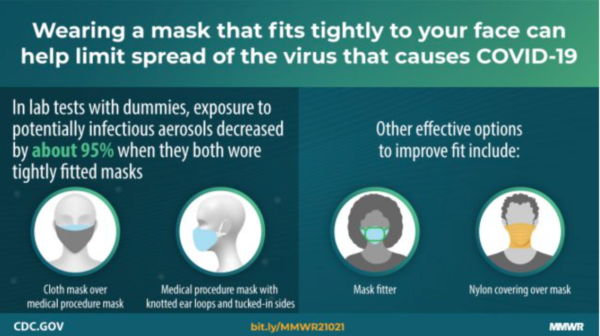 The CDC's article mentioned two other masking methods that will increase a mask's effectiveness: using a "mask fitter" or placing a sleeve of nylon material (e.g. a gaiter) over a cloth or medical procedure mask. These two methods significantly improved the wearer's protection by fitting the cloth or medical procedure mask more tightly to the wearer's face and reducing edge gaps. Note that a gaiter is not effective as a mask alone (see our 8/21/2020 newsletter on this subject) but this study proves that gaiters can be used to increase a cloth or medical procedure mask's effectiveness. So dust off those gaiters, ladies and gentlemen, and use them to increase your protection!
---
COVID 'Long Haulers'
by Dr. Jeff Anthony
Although up to 40% of people with COVID may be asymptomatic, most people do manifest some symptoms: fever, congestion, sore throat, shortness of breath, fatigue, gastroenteritis or loss of taste or smell. For most people, these symptoms resolve in 10 to 14 days. With some, many of the symptoms improve but they still have lingering complaints. Fatigue, body aches, shortness of breath, difficulty concentrating or sleeping, loss of taste or smell, 'brain fog', or headache still can persist for several weeks to months after the initial infection. The infection itself should resolve in about 14 days, but the persistence of symptoms beyond three weeks, and even beyond six months are now termed 'long haulers', or 'COVID long'. A similar scenario was seen with SARS (Severe Acute Respiratory Syndrome) as well as MERS (Middle East Respiratory Syndrome), both of which were also from a coronavirus infection. We are not used to symptoms lasting this long with other more common infections like the flu or the common cold. It's one thing to have a flu-like illness that takes you down for a week or two; it's a totally different issue to have prolonged symptoms lasting for several months.
Studies are showing that about 10% of people infected with COVID go on to a 'long hauler' type scenario.(1) Studies on hospitalized patients with COVID show an even larger percentage become long haulers, up to 35%.(2) While there is not as much data yet on long term lung damage from COVID, a study in The Lancet (4) of patients hospitalized with SARS showed 30% continued to show abnormal CT manifestations of the lungs at six months after infection (as stated above, SARS is also a coronavirus).
Those most at risk to become a long hauler tend to be people over age 50, people that have two or more chronic diseases, and those that have had a more severe COVID infection. However, even people with mild to moderate symptoms not requiring hospitalization are also at risk for 'long hauler' problems, which we are seeing in our office. We are also seeing, which is mirrored in the literature, the waxing and waning of these chronic symptoms over time.(3)
If these long haulers are no longer infectious after 10 to 14 days, why do they still have noticeable and bothersome symptoms? It's postulated that the virus causes the initial infection, then stimulates other mechanisms in the body, like the immune system, to 'attack' the body, continuing the injury even after the infection is better. Other potential causes are suggested: " 'The etiologies are almost certainly multifactorial, but may involve overzealous immune responses, cardiopulmonary or systemic inflammation, vascular inflammation or clotting disorders, and direct damage from viral replication during acute illness.' says Timothy Hendrich, a viral immunologist and infectious disease expert at the University of California, San Francisco."(3)
So, what do we do? It appears that in some people, coronavirus and COVID can cause more prolonged problems than other common infections like the cold. Although most people who get infected with COVID fully recover, there does appear to be a significant number of patients that have significantly longer lasting issues. As research continues to accumulate about these "long hauler" symptoms, our understanding will undoubtedly evolve as well. In the meantime, it serves as a reminder of the importance of continuing to adhere to the protocols we all know and have been practicing (masks, social distancing, hand washing…), and to get vaccinated as soon as you are able!
1. https://jamanetwork.com/journals/jama/fullarticle/2771111.
2. https://www.bmj.com/content/370/bmj.m3026
3. https://www.scientificamerican.com/article/the-problem-of-long-haul-covid/?mc_cid=589c00b316&mc_eid=c4a642eb05
4. https://www.thelancet.com/journals/eclinm/article/PIIS2589-5370(20)30207-8/fulltext
---
Vaccine Updates:
San Diego County announced they will allow 'informal caregivers' to receive the vaccine now. The caregiver wanting the vaccine must receive a letter from the care recipient's provider verifying the necessity.
While the new variants in South Africa and potentially Brazil may blunt the overall effectiveness of some of the vaccines, the vaccines are still able to largely prevent the severe forms of disease that lead to hospitalization and death, no matter the strain.
Additionally, because the mRNA vaccines from Pfizer and Moderna are so effective, the slight drops in antibody effectiveness seen in laboratory analysis of these strains may not matter overall when it comes to protection. More study is needed, but overall the data indicate that the vaccine will still be a powerful tool (although ensuring a speedy rollout is imperative).
---
Confirm Your MyChart Account
If you are unsure if you are signed up for MyChart, please check using this link to sign in. If it appears you still need a MyChart account, email us at CV19info@sdsm.com so we can send you an access code. More details on signing up are below.
It is more important than ever to keep you informed as new tiers of the COVID-19 vaccination plan become available to you. It will be an important tool to ensure you get the second dose on time. If you already have MyChart, please be sure to follow through and review any communication you get from us. It could contain important information about the vaccine and vaccination appointments. Because the COVID-19 vaccination requires two doses, it is important that we can contact you through MyChart to ensure you receive the second dose at the correct time.
How to sign up for MyChart:
Option 1
Go to sdsm.healthmychart.org
Register with your access code which will be sent via email or text
If you do not have an access code, please EMAIL US at CV19info@sdsm.com to request one. Do not call the Customer Support number on the sign up webpage.
Option 2: Sign up without an activation code
This option requires you enter your information exactly as it is recorded in your medical record.
Go to https://mychart.ucsd.edu/ucsd/signup
If you have problems, EMAIL US at CV19info@sdsm.com
There are many benefits to having access to MyChart. You can easily communicate with your providers without having to wait on hold. You can request prescription refills and appointments. You can even schedule some types of appointments yourself. You are able to view a generalized health summary, and obtain test and lab results. You will also have access to your After Visit Summaries from each of your appointments. Please take a few moments to sign up today!