Dr Jeff Anthony In The News!
Following Dr. Anthony's October 6 article 'How To Hug During COVID; Is It Worth The Risk?', local news station CBS-8 covered the story. If you missed it, you can view The Four spot below which shared the importance of giving and receiving hugs, as well as Dr. Anthony and his daughter demonstrating a safer way to hug. Thank you to CBS-8 for sharing this seemingly small but very important aspect of maintaining human connection.
---
Pilates and Back Care Program
by David Hall, Director of Pilates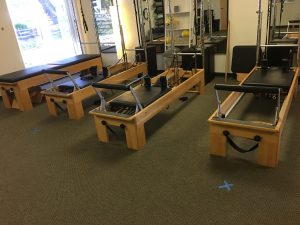 San Diego Sports Medicine is currently accepting new clients in our Pilates and Wellness Program. We are now offering indoor training sessions as well as outdoor reformer sessions. SDSM practices all COVID-safe workplace protocols. Participants will be screened for exposure or symptoms, wash hands before entering, and wear a mask at all times when inside the facility. If you are not ready to jump into an indoor or outdoor training session, we have virtual Pilates sessions for you as well!
If you are dealing with chronic back issues, the Pilates and Wellness Program has a fantastic Back Care Program. This program is designed to help you identify muscle imbalances and work on core stability that may be contributing to your pain and dysfunction. The instructor will help you to devise a plan of action for correcting the behaviors and movement patterns, and help you implement a series of exercises and stretches that will help your spine progress to a more optimal state of function and help you lead an active life.
We also offer multi level fitness classes. These workouts emphasize core strength, flexibility, and total body strength. Our trainers are highly skilled at working with people who have different abilities and can address any weaknesses or physical limitations you may experience. So whatever your body needs, we have the class for you!
Our current class schedules are below. Some of you may like to take classes with a specific group of your friends. If you would like to form your own group class, please reach out and we will try to accommodate a class time to suit you!
Back Care classes:
Virtual
Monday, Wednesday, Friday. 11 am
In studio
Monday 1pm and 4pm
Wednesday 1 pm and 4 pm
Fitness class schedule:
Monday 12 pm
Tuesday 4:30 pm and 5:30 pm
Thursday 4:30 pm
Friday at 6:30 am
---
Getting a Better Night's Sleep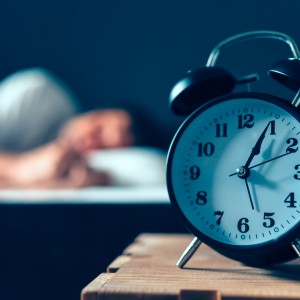 by Linda Illingworth, RDN
In two days we will turn our clocks back an hour and end observation of Daylight Saving Time. Originally adopted to help save energy by extending access to sunlight, Daylight Saving Time was not for the benefit of farmers to have additional hours of daylight. In fact, the agrarian community lobbied against use of Daylight Saving Time because they understood that crops and cows function in response to the time we rotate around the Sun, not the time we choose to put on the face of our clocks. Current knowledge about how our bodies are affected by subtle changes in chronicity reiterates this fact. Whether you are a 'lark' who likes to go to bed earlier, or a 'night owl' who thrives in the evening hours, the one hour 'spring forward' or 'fall back' time adjustment of Daylight Saving Time can be tough on our chronological clocks.
Good quality sleep is one of the most important things you can do for your immune system and overall health. Sleep helps regulate your appetite, improves immunity, and even regulates cholesterol. Quality sleep helps mitigate stress which is at an all-time high for many of us. Inadequate sleep can be the result of sleep apnea, sleeping with pets or small children, poor timing of alcohol, sugar, or caffeine consumption, or misuse of prescription sleep aids.
If you struggle with sleep, we want to help you improve it. Talk with your provider about your sleep to determine which phase of your sleep needs support and which tools are best for you. Your provider can offer coaching on lifestyle measures, recommendations for over-the-counter sleep aids, or determine if prescription medication will meet your specific needs. If warranted, you may also be referred for a sleep study to rule out sleep apnea.
To help further your quest for sleep, download 10 Steps to a Better Night's Sleep. Post it on your bathroom mirror for the next week. It can help remind you of small steps you can take each day like swapping that third cup of coffee for decaf or water. Taking a warm bath or shower before bed helps reduce body temperature and prepare for sleep. You can also set electronic devices on 'night shift' to reduce exposure to blue light hours before bed which disrupts sleep.
Getting a sound night's rest can be life changing. Call us today for an appointment to discuss ways you can improve your sleep. Your provider is happy to see you in-office or discuss your needs via a Telehealth appointment if that is more convenient.
---
Meet Your Provider: Robyn Bailis, M.ED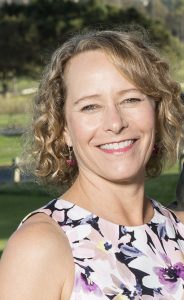 When Robyn was introduced to Pilates in 1991 she quickly realized this was her passion for post physical therapy exercise and made it her specialty. A student of Joseph Pilates, Ron Fletcher, and Cathy Corey, Robyn received her certification through Elizabeth Larkam and Brent Anderson from Polestar Pilates. In addition, she holds a Gold Personal Training Certification from American Council on Exercise.
In 1997, Robyn opened her own Pilates Studio, Center of Movement and Balance, in Solana Beach. She continued her training and became a Muscle Activation Techniques Specialist which has become a key component of her expertise in the human body.
Robyn's education includes a BA in Dance from the University of Colorado, Boulder, and an M.ED in Physical Education from Colorado State University, Fort Collins. Not only did she attend on a full teaching scholarship, but also spent two years as a member of the teaching staff. Next, she pursued a career in dance in Los Angeles, California until 1986 when she developed a severe back injury opening up her way to becoming a Personal Trainer and Pilates Instructor.
A native of Colorado, Robyn has always led an active lifestyle and loves skiing, hiking and cycling. We are delighted to have Robyn as a Pilates instructor. When she is not teaching Pilates at SDSM, you can find her coaching weight training for San Dieguito Academy's Track and Field Team in Encinitas and expanding her education by delving into the latest information about the human body and neuroscience.
---
Stay safe San Diego.
Fall is upon us and with it continued concern about COVID-19. In addition, we have flu season around the corner. So it's more important than ever to follow up on important checks on your health. Those with health conditions that put them at higher risk for more severe symptoms should be especially attentive to their healthcare needs. Chronic conditions that may increase risk of worse COVID-19 symptoms include diabetes, asthma, COPD, heart problems, impaired immune function, difficulty getting enough sleep, or high levels of stress. It's important to maintain your health if you have a chronic condition. Ask us about COVID-19 testing and let us help manage your symptoms if you get sick. We are here for you whether you need a well check, advice on testing or care for COVID-19, or have any other health care need. Our Urgent Care office in Pacific Beach is always available to you. Simply call first so we can be sure to see you safely in clinic.
SDSM is dedicated to practicing all CDC recommended infection control measures. Clinics disinfect between each patient interaction with CDC approved disinfectants, employ proper social distancing measures, and follow additional CDC infection control guidelines. When visiting our clinics you can expect fewer people in waiting rooms, to wear a mask or face covering, use hand sanitizer on entry, and be screened for COVID-19 symptoms before entering patient care areas.
Don't forget telemedicine appointments are an option that can save you time and travel. We are experts in telemedicine and can coach you on self-care at home, provide advice on medications or necessary prescriptions, and can evaluate your need for an in-person visit. We continue to recommend that anyone with cold/flu/COVID-19 symptoms and patients at increased risk of complications from COVID-19 are best addressed through telemedicine appointments.
Please call us if you feel ill, even if you believe you had no exposure to someone who has been sick. Whether you have been practicing stay at home measures, traveling, or out in the community, take care to wear a mask, practice a minimum of six foot social distance from others, wash your hands frequently, and avoid touching your face, mouth, and nose. Working together, we can help you to stay safe, healthy, and thrive.
Yours in health,
The Physicians and Staff of San Diego Sports Medicine and Family Health Center