As a 31-year-old family practice physician from Pacific Beach, I've volunteered many times at a clinic deep in Mexico, but Leon, Grand Anse, Haiti presented challenges I've never before confronted. I worked with a team of eight other healthcare providers for a week in a rural clinic. We treated around 1,000 patients, and saw diseases we rarely encounter in the U.S.
Life in Haiti is starkly different from the U.S. Haiti is the poorest country in the Western Hemisphere, with a very unstable government. During our stay, doctors in the public health system were on strike – having gone unpaid for several months. The country already has limited access to healthcare, and this strike was devastating to the people of the region. Our team filled a huge void for the people of Leon.
While there, I learned a lot about the people and culture of Haiti. Most of the population is subsistence farmers who grow fruit and raise livestock. They live in tin-roofed huts with dirt floors. Despite having very little, the people were very warm and welcoming to our group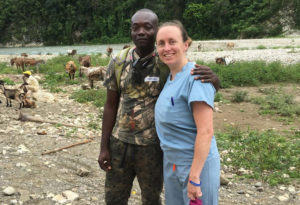 Alexandra Myers and her translator outside of the clinic
I had the blessing of having a local translator. Haitians speak Creole, which has roots in French. Since my French is first-grade level, I would have been unable to communicate with my patients without the help of my translator.
People told me stories about their illnesses. They measured time in epochs, not in days. Things happened "before the earthquake" or "after the earthquake." Very few people could say definitively that they had been ill for two days or one week. Most of the patients we served walked about four hours to get to us.
The patients suffered maladies that would make most of us run to the ER at first symptoms. Some of them had fevers every night for months, or perhaps a lingering cough. Malaria and tuberculosis are fairly common in that region and the preventive measures we have here in the U.S. simply don't exist in that country.
Many families brought their babies to be seen. Despite their abject poverty, the mothers dressed their children in their Sunday best. In sweltering heat the babies boasted bonnets and hand-crocheted sweaters. They were adorable, but it was hard to tell if their fevers were a sign of infection or just being over-dressed.
Many adults and children suffer from malnourishment; iron and iodine deficiencies are common. These nutritional deficiencies are very rare here in the U.S. We have the opposite problem of Haitians – too much food. These people are lucky to have one real meal a day, while our country is fighting an obesity epidemic.
In the end, I learned a lot about myself and Haiti. Patients around the world simply want to be recognized. They need to share their suffering with someone and hope to receive treatment. It wasn't so much about the medication, but about feeling understood. I hope that my patients felt recognized. They taught me a lot about how to make-do in a difficult environment. I believe that love and caring are universal remedies.
I hope to go back annually to Haiti. This trip invigorated my local practice at San Diego Sports Medicine & Family Health Center. Although my patients here do not have much in common with those in Haiti, they have the universal need to be cared for. Fulfilling that need is the driving force in my practice.
Pacific Beach resident Alexandra Myers, D.O., M.S.H.S., is a family practice and sports medicine physician who practices at San Diego Sports Medicine & Family Health Center. In her day job she takes care of athletes from SDSU, the Olympic Training Center, SD Christian College, SD City College, Cuyamaca College, and Grossmont College. She does two to three humanitarian missions a year with a variety of organizations. Most recently at the beginning of June, she did a 10-day trip to Haiti with the Seattle King County Disaster Team.
Read more on the original article at San Diego Community News Group – Learning lessons about life and love on a medical mission in Haiti
—