Management of concussions in high-school-age kids in California has significantly changed since January of 2015. Participation in concussion management programs is important for all kids younger than 19 years old. These programs aim to help the athletes, their parents, teachers, and coaches better understand what happens during a concussion, and will affect the ability of the athletes to play their sport.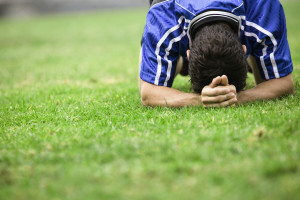 Reasoning for changes:
-Increased evidence that concussions in athletes younger than 19 years old can be more serious and longer lasting than previously thought, so care must be more conservative and intensive.  Evidence shows that the maturing brain takes longer to heal.
-Manifestations may vary widely depending on the athlete and the injury.   A multifaceted approach by a physician experienced in this area is recommended.
Rules:
CA state laws, targeting high school kids of age younger than 19 years old:
 AB 588,  September 2013.
-Immediately remove an athlete from activity if suspected head injury
-Athlete needs evaluation by licensed health care provider (LHCP) before return to activity
-Athlete needs written clearance for RTP (Return to Play)
AB 2127, January 2015
-Reinforces above law, plus:
-Concussions need a graduated RTP protocol of no less than 7 days, with supervision of LHCP
-Urged California Interscholastic Federation (CIF) to adopt protocols for concussion management
CIF protocol, March 2015
-The athlete's care must be supervised by a physician (MD/DO)
-Gave protocols for RTP and RTL (Return to Learning)
 Symptoms: Any neurologic change after a head or neck injury.  For Example: headache, dizziness, nausea, irritability, loss of memory, etc.  Athlete may also has problems with multi-tasking, mentation during school work, balance and coordination.
-Some functions resolve before others, and management may be different for each athlete, so care needs a multifaceted approach.
-Most concussions resolve in 7-10 days if safely managed.
 Essentials for RTP:

-No physical activity for at least 2 days after athlete is seen by a doctor.

-Doctor must clear athlete before RTP protocol starts

-Return to sport cannot be sooner than 7 days AFTER being seen by the doctor.

-RTP protocol takes minimum of 6 days (after 2 days symptom free) of graduated increased activity, after completing RTL.

-If the concussion injury does not resolve in 7-10 days, treatment should also consider:

         -Reducing aggravating factors, mental and physical

         -Consider Rehab for balance, oculomotor, CT (cervical-thoracic) strain, etc.

         -Consider medications as appropriate

 Keys:

-Athlete needs to see a Physician (MD/DO) asap after injury to start the clock for recovery

-The athlete must do a supervised, graduated RTP protocol to return to sport

-The athlete needs written notification to begin protocol, and for release to full sport by a licensed physician (MD/DO).

-If concussion is not improving, recommend seeing a physician experienced in the field to facilitate safe recovery

-Baseline testing should be done on all athletes prior to competition to establish their norms in cognitive, balance, and oculomotor functions, for more accurate concussion management.
To find out more on Concussions and our Concussion Management Program please click here
SDSM is hosting a  FREE  Concussion baseline screening and informational clinic on Saturday, June 13 from 8:30 – 10am at our Sorrento Valley office.