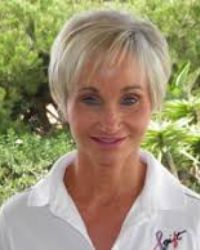 Cathy is happy to have joined the staff at San Diego Sports Medicine & Family Health Center as a Registered Physical Therapist. Cathy's accomplishments include: a BS of Physical Therapy, an MS of Athletic Training, a BS of Physical Education, being a Fellow of Applied Functional Science (FAFS) Functional Manual Reaction (FMR), and being a former Certified Athletic Trainer.
Cathy grew up in Orange, CT and was athletically involved from a very young age in gymnastics, dance, field hockey, and track. While working on her first bachelor's degree, she was also on the Varsity Cross Country Track team. She continued as a Women's Cross Country and Track Field Assistant Coach while working on her Master's Degree in Athletic Training. Subsequently, Cathy began a career as an Athletic Trainer for Yale University in New Haven, CT. It was there that she became interested in physical therapy, which resulted in her going back to college to get her second BS in Physical Therapy while working as an Athletic Trainer at the University of New Haven.
Cathy then followed her dreams of living and working in paradise by moving to San Diego. Cathy's 30 years of professional experience include working in outpatient orthopedic settings with specialized developed skills in treating multisport endurance athletes and post-surgical patients, and working with Saint Augustine in addition to Mission Bay High School caring for their football teams as an athletic trainer. Cathy also has experience teaching aquatic therapy, Pilates, and balance and fall prevention classes, as well as developing and presenting workshops and seminars and educating DPT candidates as a Clinical Instructor. Cathy recently became certified in 3DMAPS (3-Dimensional Movement Analysis Performance Systems) used to effectively assess mobility and stability in patients and clients.
Early in her physical therapy career, Cathy was introduced to Gary Gray, PT, who is the forefather of the system of Applied Functional Science which she found to be consistent with her goals of combining manual techniques, movement re-education, and prescribed exercises in order to have patients return to an active, healthy, and enjoyable lifestyle.
Besides teaching balance and fall prevention to seniors at the Rancho Santa Fe Senior Center, during her free time, Cathy takes full advantage of what she calls "God's little corner of heaven on earth" that is San Diego. Cathy can be found running, cycling, weight training, and hiking in any given week. She looks forward to sharing her passion and knowledge with the local beach community.